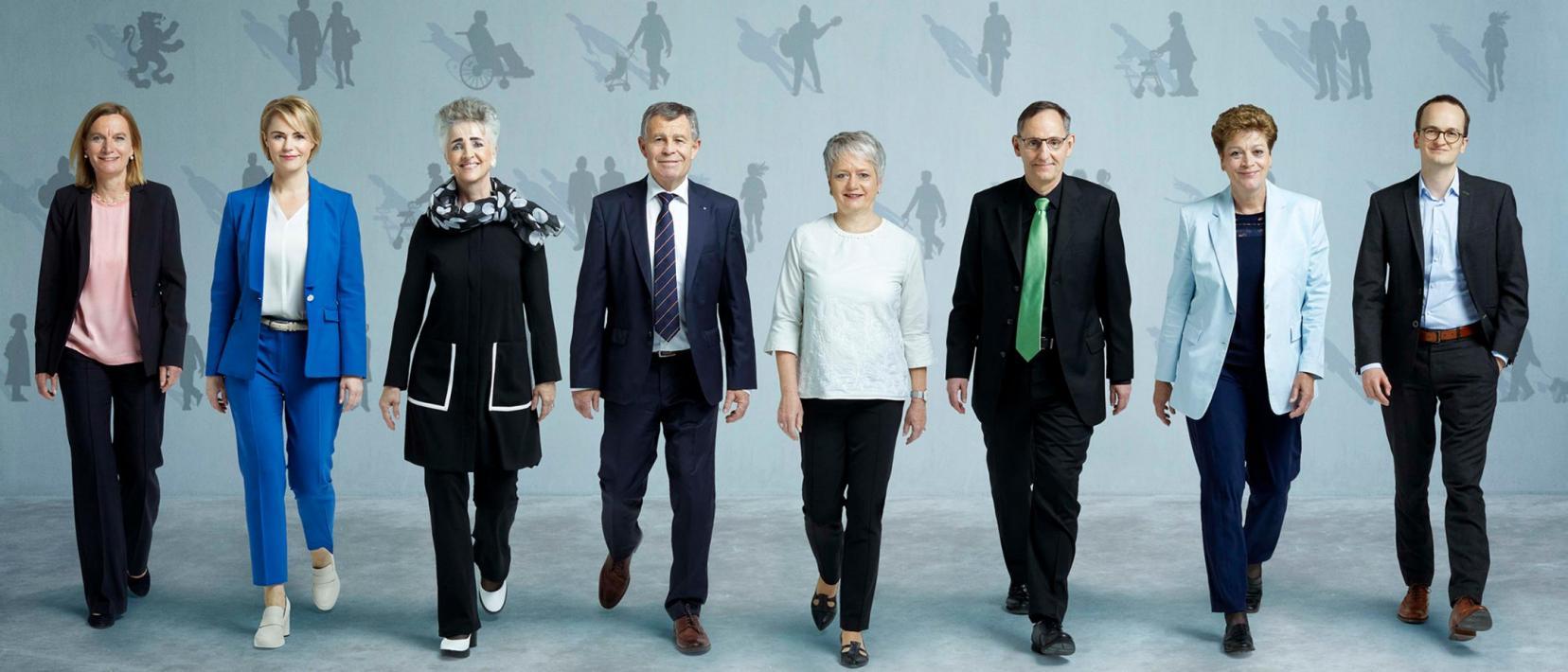 The Government Council is the supreme executive authority in the canton. It upholds the constitution and enforces the laws, ordinances, and decisions of the Cantonal Parliament. Its seven full-time members are elected by popular majority vote every four years.
There are 1.55 million of us living in the Canton of Zurich. Every day we work hard for our families, in our jobs and in our communities. We come up with ideas, celebrate successes and deal with disappointments. We enjoy life, and in times not dominated by coronavirus, we enjoy plenty of freedom as well.
Living in a modern, open and diverse society is fascinating – and challenging.
No two days are the same. Things develop at incredible speed. Mobility, digitalisation, diversity of cultures, languages and religions transform our familiar environment. So I invite you to join us in making this change happen together! Let's work for a society where people in all walks of life can find a place and feel they belong. Everyone's involvement, and our willingness to help shape the social and economic progress of our canton, are immensely valuable. This engagement is the backbone of democracy.
In recognition of this, the Government Council has decided to actively encourage everyone to get involved. We, the seven Government Councillors and the Chancellor, want all 1.55 million people in Canton Zurich, including you, to feel they belong and are part of our community.

Jacqueline Fehr, President of the Government Council of the Canton of Zurich

More about the Government Council
Use the accordion controls to toggle the visibility of each panel (below the controls).
For the term from May 1st, 2021, to April 30th, 2022, the Government Council elected Jacqueline Fehr as its president and Ernst Stocker as its vice president.

The order in which members are elected president depends on how long they have been in office. Newly elected members of the Government Council must usually wait until all members who have been in office longer than themselves have been president. Only then can they be elected vice president and subsequently president of the Government Council.
If several members were elected into the Government Council on the same date, the older member is given priority.
In certain justified cases, the Government Council can make an exception to this rule. If, for example, a member takes over a new department at the same time, their presidency can be postponed by one year.

| Department | Head | Proxy |
| --- | --- | --- |
| Department of Justice and Home Affairs | Jacqueline Fehr | Natalie Rickli |
| Department of Security | Mario Fehr | Carmen Walker Späh |
| Department of Finance | Ernst Stocker | Mario Fehr |
| Department for Economic Affairs | Carmen Walker Späh | Martin Neukom |
| Department of Health | Natalie Rickli | Dr. Silvia Steiner |
| Department of Education | Dr. Silvia Steiner | Jacqueline Fehr |
| Building Department | Dr. Martin Neukom | Ernst Stocker |
| Chancellery | Dr. Kathrin Arioli | Dr. Peter Hösli |
The Government Council's duties

The Government Council is the supreme executive authority in the canton. Its seven full-time members are elected by popular majority vote every four years and take decisions together as a collegial body. The Government Council's duties include:
Drafting laws, amendments to the constitution and legislation and spending bills for approval by the cantonal parliament or
the electorate
Managing a cantonal administration with about 33,000 staff
Determining the interim and long-term goals of government policies
Supervising the various authorities
Preparing the budget
Representing the canton within Switzerland with respect to the Confederation and other cantons
Negotiating international and intercantonal agreements
Ruling on administrative appeals
Recruiting top-level administrative staff

Images from previous years
Contact
Staatskanzlei – Kommunikationsabteilung des Regierungsrates