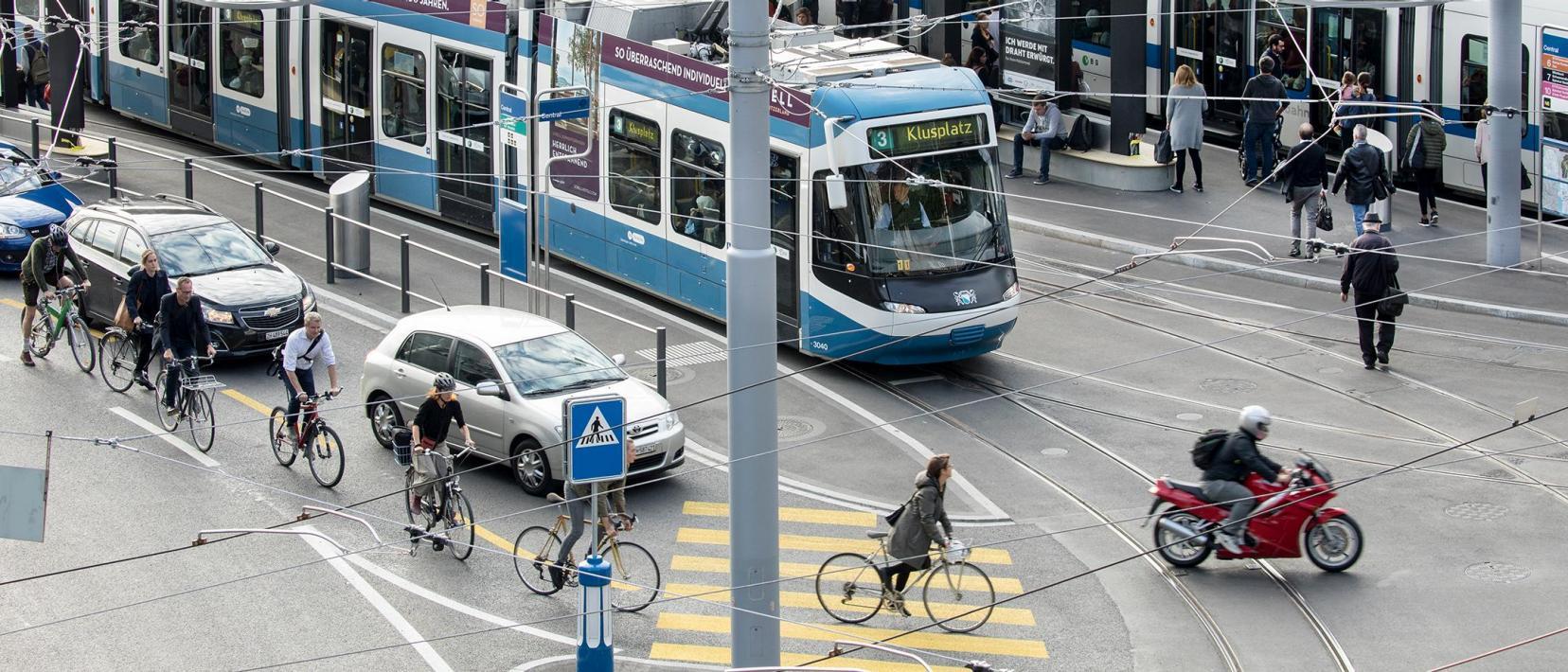 People want to be mobile and stay mobile. That is why we are already planning for tomorrow's needs in terms of mobility – keeping in mind societal and economical changes, the objectives of our environmental policy, and current technological innovations.
Overall transport concept

We do careful long-term planning of the developments in the field of traffic and transportation, keeping in mind the environment, societal changes, workplace developments, spatial planning, changes in the way people spend their free time – and, of course, the financial means available to us. All of these aspects are taken into account in our overall transport concept, which serves as a basis for the long-term development of the transport networks. The Office of Mobility and Transport (OMT) of the Department for Economic Affairs is in charge of its implementation and further development. Additionally, the OMT oversees the more specific overall transport concepts of the various regions and the agglomeration programmes.

«Today, the Canton of Zurich and all of its regions are very easy to reach. Maintaining and developing our high-quality location for the population and the economy will continue to take great efforts.»

Overall transport concept of the Canton of Zurich
Planning traffic infrastructures

The experts at the Office of Mobility and Transport develop specific projects such as bypasses, cycle lanes and pedestrian links. They take into consideration the needs of municipalities, planning regions and other authorities and offices. The OMT also guarantees the coordination and funding of all projects. In addition, it safeguards the canton's interests regarding national roads.

Representation of interests regarding the airport and air traffic

The Canton of Zurich is the main shareholder of the Flughafen Zürich AG and thus has influence on the airport's business strategy. The ownership strategy determined by the Government Council defines the guiding principles of the representation of interests. Participations management serves the purpose of monitoring and controlling. The OMT also exercises the canton's duty of monitoring adherence to approach and departure routes and the ban on night-time flights.

Public transport
Zurich's public transport association ZVV is part of the administration of the Department for Economic Affairs. The ZVV is in charge of the canton's public transport network. It coordinates, manages, and funds the regional S-train lines, the tram and bus lines, the boat connections, and the mountain railways. The ZVV itself does not operate any vehicles; transport services are provided exclusively by the transportation companies.
Contact
+41 43 259 30 61
Telefonzeiten (Zentrale):
Montag bis Donnerstag,
8.00 bis 12.00 Uhr /
13.30 bis 17.00 Uhr
Freitag,
8.00 bis 12 Uhr /
13.30 bis 16 Uhr
ch.zh.web.internet.core.components.contact.screenreaderlabel
ch.zh.web.internet.core.components.feedback.pleasegivefeedback
Is this page comprehensible?
Thank you for your feedback