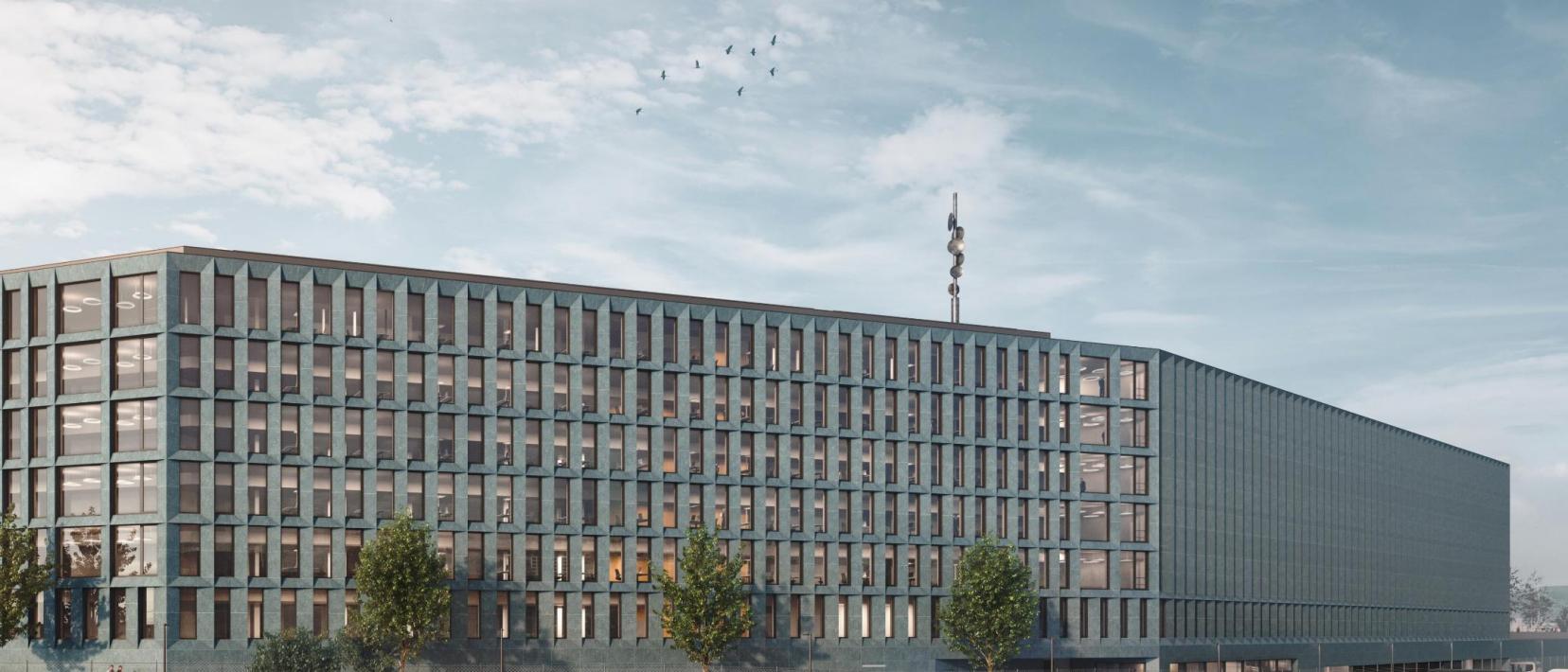 The Zurich West Prison is a part of the Police and Justice Centre. Its inmates are either under provisional arrest or in pre-trial detention.
About us
The Zurich West Prison (Gefängnis Zürich West, GZW) is a part of the Police and Justice Centre (Polizei- und Justizzentrum, PJZ) which is currently being built on the grounds of Zurich's former freight terminal.
After its inauguration, the Zurich West Prison will house persons under provisional arrest (124 places) and in pre-trial detention (117 new places).
During provisional arrest (also known as police detention), the prosecution authorities have a maximum of 48 hours to make the necessary assessments in order to either confirm or rebut the suspicions and other reasons for incarceration. If there are no reasons for incarceration (or not anymore), the person under provisional arrest is released. Otherwise, a request for a pre-trial detention order is submitted to the coercive measures court (in German) which then has 48 hours to adjudicate on the matter.
If the coercive measures court approves the request for pre-trial detention, the incarcerated person is moved to the prison's pre-trial detention block or to another pre-trial prison of the Zurich Pre-Trial Prisons (Untersuchungsgefängnisse Zürich, UGZ).
After the inauguration of the Zurich West Prison, it will supersede the provisional police prison on the grounds of Zurich's former military barracks, and the enforcement of provisional arrests will no longer be handled by the police, but by the Zurich Pre-Trial Prisons.

Advantages:
Capacity: 241 places (124 for people under provisional arrest and 117 for people in pre-trial detention)
Advantages:
Planned jobs: 146,0 positions
Advantages:
Inauguration of police detention: April 2022

Scheduled inauguration of pre-trial detention: Autumn 2022
Visiting hours
Monday to Friday (including public holidays):
8.15 am to 12 pm
1 pm to 5 pm      
Payments for alternative custodial sentences will be accepted from 5 pm to 8 pm in addition to the above visiting hours. 

Visitation permit and registration  
Advantages:
Before visiting, you have to apply for a permit with the prosecution offices.

In order to visit an inmate, advance notification by phone is mandatory: +41 43 257 31 11
Money transfer to inmates
For the settlement of alternative custodial sentences the prison accepts the original receipt of the payment via post office counter. Payment forms must be collected in advance from the loge (main entrance) at Zurich West Prison. Please note our visiting hours.
For all other payments to an incarcerated person, money can be wired. Here you can find the bank details:


| | |
| --- | --- |
| Name des Finanzinstituts | PostFinance, 3030 Bern |
| Einzahlung für | Polizei- und Justizzentrum, Gefängnis Zürich West, Güterstrasse 33, Postfach, 8010 Zürich |
| Konto | 15-862826-8 |
| IBAN | CH46 0900 0000 1586 2826 8 |
| SWIFT/BIC | POFICHBEXXX |
| Clearing-Nr. | 09000 |
Supervision and treatment
Every prison offers medical services, pastoral work, and social counselling. If an inmate is dealing with psychological issues, the prison will bring in a psychiatrist.

Seven days after being committed to the prison, all inmates are given a free medical check-up. This also includes assessing whether they are able to work and are fit for incarceration. If necessary, further evaluations or therapies are arranged.
For more in-depth information on supervision and treatment, please check our house regulations (in German):

Work
For inmates in pre-trial or in preventive detention, work or school attendance are not mandatory. If a person in pre-trial or in preventive detention has committed to working on a voluntary basis, he is obliged to carry out the tasks assigned to him.
Inmates carry out the following tasks:
Packing and repacking
Compiling and assorting
Packing and dispatching mailings
Cardboard packaging
Creative work
Leisure
The inmates have the opportunity to exercise in the gym or the yard every day. Furthermore, inmates can access a library with carefully selected books.

Further information
Use the accordion controls to toggle the visibility of each panel (below the controls).
ch.zh.web.internet.core.components.feedback.pleasegivefeedback
Thank you for your feedback